Home
---
Classes
---
Registration
---
Photos
---
Student
Comments

---
Press
---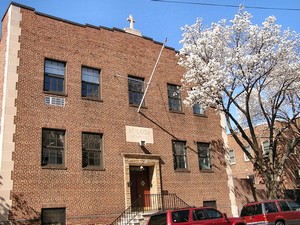 Rev. Oreste Pandola Adult Learning Center
at
St. Leo's School
914 Stiles Street

Ravioli Making Re-Scheduled

Hi Everyone!
Yes, we did decide to cancel ravioli making for tomorrow since more snow is coming tonight and many people drive in from different distances with varying levels of snowfall...
We moved it to next Saturday, February 22nd at 9am.
Please let us know if you are able to make the new date.
Stay safe thanks to all!

Lisa Portera
Administrative Assistant
St. Leo's Church
227 S. Exeter Street
Baltimore, MD 21202
410.675.7275

CPR Classes

The Reverend Oreste Pandola Learning Center is proud to present the following class. Please plan to take this vital class.

CPR classes will be offered for either March 6, 2014 or March 13th both Thursdays at 1pm. CPR will take about 2 1/2 hours so this would allow anyone who does the evening classes to still attend them, too. We can do infant, child and adult CPR/AED for $35 a person and $5 dollars from each enrollee will go to the Learning Center. Classes limited to 10 participants and if we get a large response we can always do another class in April. Instructor: Daisy Sudano

synopsis: Participants will receive a 2 year certification in infant, child and adult CPR/AED training from a certified National Safety Council Instructor. Topics include breathing and pumping, compression only CPR, when to do CPR, choking care and introduction to using an AED (Atomated External Defibrillator).

Students Share Their Experiences

---
Enjoy attending sessions in Baltimore's historic Little Italy. For information call 410.866.8494

---


This Baltimore Web Ring site owned by Thom LaCosta .
Previous 10 | Skip prev | Previous | Next | Skip next | Next 10
Random Site | List Sites | Join Baltimore Web Ring