Home
---
Classes
---
Registration
---
Photos
---
Student
Comments

---
Press
---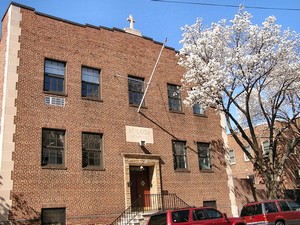 Rev. Oreste Pandola Adult Learning Center
at
St. Leo's School
914 Stiles Street
Maria Faustina Commodari
It is with great sadness that we announce the passing of our dear cousin and teacher Maria Faustina Commodari. Maria was a kind, quiet individual who never stopped giving. Although suffering great personal lost, she never complained. She loved her Italian heritage and valued traditions. She taught numerous individual how to make delicious homemade Anisette. With great patience she urged her students to keep on trying, telling them that the liqueur will get better and you can do it. When we had our San Martino Fund Raising event, she cooked the most delicious difficult Italian dish that was enjoyed by the guests. She not only donated her culinary knowledge, she purchased the ingredients to make the dish. Mere words are not adequate to thank her for her dedication to our Center.
E' con grande tristezza che annunciamo la morte della nostra cara cugina ed insegnante Maria Faustina Commodaro. Maria era una persona gentile, pacata e dalla grande generosita'. Sebbene avesse sofferto di un grave lutto personale, Maria non se ne e' mai lamentata. Lei amava la sue origini italiane e le tradizioni. Ha insegnato a tantissime persone come preparare il delizioso liquore "Anisette" fatto in casa. Con grande pazienza, lei motivava i suoi studenti dicendo loro che il liquore volta dopo volta sarebbe migliorato. In occasione della raccolta fondi San Martino, Maria cucino' uno tra i piatti piu' difficili della cucina italiana che fu apprezzato da tutti gli invitati. Maria non solo dono' la sua ricca conoscenza culinaria, ma anche si occupava personalmente dell'acquisto degli ingredienti per preparare i piatti. Semplici parole non sono sufficienti per esprimere la nostra gratitudine per il suo impegno nel nostro Centro.

Ravioli Making Re-Scheduled

Hi Everyone!
Yes, we did decide to cancel ravioli making for tomorrow since more snow is coming tonight and many people drive in from different distances with varying levels of snowfall...
We moved it to next Saturday, February 22nd at 9am.
Please let us know if you are able to make the new date.
Stay safe thanks to all!

Lisa Portera
Administrative Assistant
St. Leo's Church
227 S. Exeter Street
Baltimore, MD 21202
410.675.7275

CPR Classes

The Reverend Oreste Pandola Learning Center is proud to present the following class. Please plan to take this vital class.

CPR classes will be offered for either March 6, 2014 or March 13th both Thursdays at 1pm. CPR will take about 2 1/2 hours so this would allow anyone who does the evening classes to still attend them, too. We can do infant, child and adult CPR/AED for $35 a person and $5 dollars from each enrollee will go to the Learning Center. Classes limited to 10 participants and if we get a large response we can always do another class in April. Instructor: Daisy Sudano

synopsis: Participants will receive a 2 year certification in infant, child and adult CPR/AED training from a certified National Safety Council Instructor. Topics include breathing and pumping, compression only CPR, when to do CPR, choking care and introduction to using an AED (Atomated External Defibrillator).

Students Share Their Experiences

---
Enjoy attending sessions in Baltimore's historic Little Italy. For information call 410.866.8494

---


This Baltimore Web Ring site owned by Thom LaCosta .
Previous 10 | Skip prev | Previous | Next | Skip next | Next 10
Random Site | List Sites | Join Baltimore Web Ring