Home
---
Classes
---
Registration
---
Photos
---
Special
Events
---
Student
Comments

---
Press
---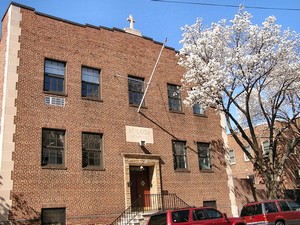 Rev. Oreste Pandola Adult Learning Center
at
St. Leo's School
914 Stiles Street
It is with deep sadness that we announce the death of Joseph Anthony Scalia who was one of our most dedicated instructors. He enjoyed working with our students and was delighted when the game and rules of bocce were mastered. Our deepest condolence is extended to his wife Philomena and loving family. Philomena and her sister, Mrs. Eleanor Stein, have been teaching our students for the last twenty years in the art of baking delicious breads and sweets. Our Pandola Center is Blessed to have had the support of this entire family.
Please note that Joe passed away on March 22nd on his 90th birthday.
Our students, staff, and friends may pay their respects at the Lilly and Zeiler Funeral Home located at 1901 Eastern Avenue on Saturday from 4-8pm or Sunday from 3-7pm. The funeral Mass will be celebrated on Monday at St. Leo's Church on Monday, March 27, at 9 :30 am.
---
Change Notice - History of Wine Class has been rescheduled from this Saturday, March 25, 2017 to Saturday, May 7, 2017. Time (12:00- 2:00).
---
Our Spring, 2017 Course Schedule is available
please sign up for classes
New Online Registration!
---
Important Course Change Notice
The Delicious Italian Treats Class will be held April 20, 2017. Instructors are Mrs. Anna Liberto McCurdy and Mrs. Frances Liberto.

New Courses Added


Women's Basic Self Defense Class We are happy to present a basic women's self-defense class. Students will be taught basic techniques to help protect themselves in a very difficult situation.
Saturdays, March 18, 25, April 1, April 8, 2017. Fee: $40.00 (10:00 -11:00) am
Instructors: Carl Del Gallo, Mario Teresi

Assistance with Joint Pains and Movement for Adults Do you experience joint pain and other discomfort?? Plan to participate in this class to help with flexibility and movement class.
Saturdays, March 18, 25, April 1, April 8, 2017. Fee: $40.00 (11:00 -12:00) am
Instructors: Carl Del Gallo, Mario Teresi
---
ASSISTANCE TO OUR ITALIAN AMERICAN COMMUNITY


A New Patronato Serving Italian Nationals in the U.S.
The Rev. Oreste Pandola Center is very proud to announce a very special service to our Italian American friends. Mrs. Pina Culotta will be providing her expertise service regrading Italian pensions and pensions with other countries that have an agreement with the U.S. She will be at our school in the heart of Little Italy every Tuesday from 11:00am to 1:00pm to assist with your situations. Please make an appointment to see her at 410-868-7296. For the other services contact Melo Cicala at 202-468-6356.
---

Students Share Their Experiences

---
Enjoy attending sessions in Baltimore's historic Little Italy.
For information call 410.866.8494

---


This Baltimore Web Ring site owned by Thom LaCosta .
Previous 10 | Skip prev | Previous | Next | Skip next | Next 10
Random Site | List Sites | Join Baltimore Web Ring