Home
---
Classes
---
Registration
---
Photos
---
Student
Comments

---
Press
---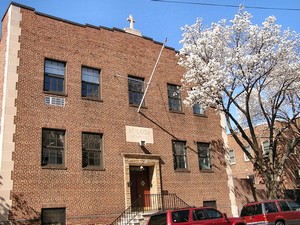 Rev. Oreste Pandola Adult Learning Center
at
St. Leo's School
914 Stiles Street
Dear Friends,
Twenty years ago Father Rusty Pandola had a dream of a small school in the Saint Leo's School building. He wanted to teach a few Italian Language classes and maybe a cultural class. Unfortunately, Father Rusty did not live to see his dream come true. But Rosalie found a friend in Father Mike and the rest is history.
Twenty years later a few classes have turned into 6 levels of Italian, including a children's level, pasta, bread, cookies, wine, sausage, cheese and lemoncello making classes. We have had Dual Citizenship classes, opera classes, book club and GED classes. Several thousand students, some of the most qualified teachers, wonderful volunteers and Rosalie have made this all possible. So we would like to celebrate our 20 years of success with samples of some of our classes.
Please join us on Saturday May 14, 2016 from 11:30 to 2:00 for an Italian Wine Seminar, a Pysanky Egg demonstration, and samples of our fresh baked bread and lemoncello.
There is no charge for the seminars but we do ask that you RSVP so we know how many people to expect. (rosalieran@yahoo.com) or 410-866-8494.We hope everyone can come and enjoy 20 years of Pandola Learning Center.
Our Learning Center would not be possible without the consistent, dedicated efforts of many caring individuals. We are blessed with supportive neighbors, parish and staff at Saint Leo's Church.
Sincerely,
Rosalie Ranieri, Principal
Sue Corasaniti, Assistant Principal
Course Changes
Continuing Italian 107 This course is for students who have completed Italian 101
Basic Bocce Dates are April 30 and May 7. Instructor Francis Blattermann
Our Spring, 2016 Course Schedule is available - please sign up for classes
---

Students Share Their Experiences

---
Enjoy attending sessions in Baltimore's historic Little Italy.
For information call 410.866.8494

---

CONCERT BY THE FAMOUS CARABINIERI CORPS BAND

Thanks to our dedicated instructor and school advocate Elia Mannetta, we received the following invitation.
Please read and rapidly respond. Perhaps if we have enough support, we could charter a bus.


Join us for a free concert at the Kennedy Center.
PROTECTING OUR HERITAGE: A MUSICAL TRIBUTE
A CONCERT BY THE FAMOUS CARABINIERI CORPS BAND
TO HONOR DEFENDERS OF OUR CULTURAL HERITAGE
Monday, April 18,2016 at 6:00 p.m.
at the John F. Kennedy Center for the Performing Arts, Concert Hall
2700 F. St. NW, Washington, D.C.
This event is FREE. RSVP immediately by E MAIL to Elia Mannetta at elia3542@aol.com
We need to respond by April 6, 2016 so the tickets can be secured.
In what promises to be a not-to-be-missed event, 90 musicians in their distinctive uniforms will bring to life traditional maraches as modern and classical music.

THE FABULOUS HUBCAPS ARE COMING TO ANNAPOLIS!

The Annapolis Sons of Italy will again be hosting The Fabulous Hubcaps Dance on Saturday April 9th, 2016, from 8:30 p.m. to midnight at The Byzantium Banquet Facility (next to Saints Constantine & Helen Greek Orthodox Church), 2747 Riva Road, Annapolis, MD 21401. Tickets cost $28.00/per person and include beer, set-ups, Pretzels and Chips. You can BYOB and your own party trays or Food will also be available for purchase.
The HUBCAPS are a high energy band with an extensive repertoire of Do-Wop group harmony, Classic Rock 'n Roll, Rock-A-Billy, Motown and R&B music. The Fabulous Hubcaps are heralded as one of the best oldies-show bands in the country!
Tickets for full tables (up to 10 persons) are available as well as individual tickets. Tickets will NOT be sold at the door. For more info or to order tickets, please call John Barbo at 410-570-5926 or email 'annapolissonsofitaly@gmail.com'.
The HUBCAPS DANCE in Annapolis has been hosted by the Annapolis Sons of Italy for more than 25 years and the HUBCAPS continue to captivate audiences young and old!

HISTORY OF ITALIAN WINES--CHANGE OF DATE

The new date for the History of Italian wines class is Saturday, May 14, 2016 (11:30pm-2:30pm)
Mr. Thomas Tana has graciously ageeded to be a special presenter during our 20th Anniversary Celebration! Plan to join for this festive event. It will be held on Saturday, May 14, 2016 from 11:30-2:00 p.m. It is necessary to register for this event to enable us to accurately plan the afternoon.
Contact Rosalie for a reservation at 410-866-8494..

This Baltimore Web Ring site owned by Thom LaCosta .
Previous 10 | Skip prev | Previous | Next | Skip next | Next 10
Random Site | List Sites | Join Baltimore Web Ring